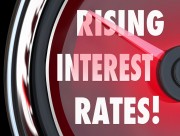 The real estate marketing in Northern Virginia is expected to heat up significantly over the next 3 months based on the latest move by the Federal Reserve to raise interest rates.
Centreville, VA, December 19, 2015 (Newswire.com) - ​For the first time in nearly a decade, the Federal Reserve raised interest rates and this is important news for Northern Virginia Real Estate buyers and sellers. Following the financial crisis that brought the real estate market crashing in 2008, the federal reserve moved to substantially and dramatically lower rates. Seven years later, the federal reserve has once again raised rates. This is an important turn of events for those with Northern Virginia Real Estate as it is predicted that there will be a multitude of changes as a result of this change in federal policy.
Northern Virginia Real Estate owners who have considered selling their homes are going to be looking at the Spring of 2016 as a great opportunity to sell. There are various factors that make now an ideal time to sell real estate in Northern Virginia but the changes in the federal rate have certainly added fuel to the fire.
"A lot of people forget that at the peak of the real estate market in 2006 when prices were the highest, interest rates where a little over 6%. So to have the ability to purchase a home almost 10 years later for almost 2% less is still an amazing deal."

Michael Putnam, Northern Virginia Real Estate Expert
Mike Putnam, a 15-year veteran of the Northern Virginia Real Estate and author of "5 Ways to Sell Your House Fast" says, "The increase in rates really means 2 things if you're thinking of selling your home. Number one is that the increase in rates will get a lot of buyers who have been been on the fence about buying a reason to purchase now, which means that right now you will have a much buyer buyer pool looking to purchase now before the rates go up any further. Number two is that when interest rates go up, it can have an effect on the price of your home because buyers qualify for less." He continues by saying this means that "now is the absolute best time to sell before rates go up and prices come down further."
Many economists and real estate experts from around the country agree that the changes to the federal rate are going to shake up the market a bit and that rates are very likely to continue to rise. Putnam says, "We are expecting that you will see 2-3 small rate increases throughout the year. Most increases will be around a quarter point. " He continues to clarify, however by stating that "Even with these small increases interest rates will still be historically low" so even with these increases, rates are still low.
When asked specifically about the Northern Virginia Real Estate market, where Mike Putnam is considered one of the utmost experts, he states that "One of the biggest trends we are seeing is that inventory has dropped almost 50-60 percent from just 3 months ago" which makes this an opportune time to sell Northern Virginia Real Estate and consider cashing out or making an upgrade.
Many experts agree that with the recent drop in inventory on the market in Northern Virginia, this represents an opportunity for sellers who have been waiting to make a move. One additional factor that adds fuel to this concept is that buyers are more motivated to buy quickly because of the raising rates. "With the increase in rates you have a much bigger buyer pool who are motivated to buy Northern Virginia Real Estate Now," Says Putnam.
California Real Estate is seeing much of the same as Ladera Ranch Real Estate expert, Amy Sims, says the "slight rise in interest rates puts the pressure on buyers to pull the trigger" now. "Buyers are on the prowl to secure a low interest rate before they climb higher." This trend is going to be seen across the country so now is the time to make a move.
Many experts are saying that one of the keys to managing your money better is to take this opportunity and make a move to buy your first home, upgrade or even downgrade as market conditions are creating some great opportunities for buyers and sellers.
Share: